BLUE MAN GROUP
in Las Vegas at the
VENETIAN Hotel and Casino!!



"Blue Man Group at The Venetian is a theatrical production unlike any other found in Las Vegas. This multi-sensory experience featuring three enigmatic bald and blue characters combines theatre, percussive music, art, science and vaudeville to create a completely unique form of entertainment. People from all over the world, from all walks of life and from all age groups have raved about Blue Man Group's performances at their state-of-the-art 1,768 seat theatre at the heart of the Vegas Strip!"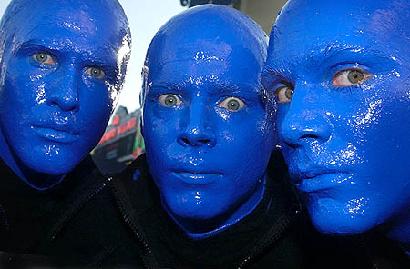 BLUE MAN GROUP
Joey and I took our semi-annual trip to Las Vegas recently, and we stayed at the LUXOR Hotel and Casino (Pyramid) and came home Winners for a change! (Yay!!)

One night, we went to the VENETIAN Casino to see the BLUE MAN GROUP. We had front row seats, and were surprised to find there was a plastic rain poncho on the back of our seats for us to wear. (Everyone in the front five or six rows were supplied with one!)

The BLUE MAN GROUP is one of the most unusual shows we've ever seen! It mixes music, comedy, audience participation and lots of hilarious skits that often end up getting the front of the audience wet with fluorescent paint from drumming, Pre-chewed Cereal, Twinkies, and lots of other gross stuff!!

You NEVER know what's going to happen next! At one point in the show, a BLUE MAN leaped off the stage, put his hand on top of Joey's head, and climbed onto the arm rest of his seat! He then climbed onto the back of the seat, and climbed back onto the arm rest of the man sitting behind Joey, using that man's head to steady himself... and he literally crawled from chair to chair, person to person, throughout most of the audience in search of a 'victim' he chose to use in their next skit on stage! It was a riot! We really laughed a lot, and enjoyed the show immensely!

The BLUE MAN GROUP reminds me of Aliens from another planet, discovering things here on Earth for the first time... they see things with new eyes, and learn things by making silly mistakes... and not a single word is uttered from any of them! Our cheeks ached from smiling and laughing so much during the show!

I've attached a few YOU TUBE clips from some of the BLUE MAN GROUP shows so you can get an idea of their sense of humor... make sure you check them all out!!

The finale' of their show is absolutely unique, unbelievable and lots of fun! There are many enormous rolls of what appears to be toilet paper strung up in a long row across the entire ceiling at the rear of the theater... during the finale, the 'toilet paper' is unwound at high speed, landing on the heads of the people in the back row of the theater! They are instructed to take the toilet paper, and pass it over the heads of the people sitting in the row ahead of them! Then that row passes it onto the heads of the people sitting in front of them, etc.... until it all ends up on top of the people sitting in the front rows! (Us!!)

Joey and I were completely covered in toilet paper by the end of the show, and had to 'dig' ourselves out!! We were literally sitting neck deep in toilet paper, and it had filled the entire orchestra pit ahead of us, and was pushed up against the stage! It was approximately 4 feet deep, piled all around us, and it was an adventure trying to get out of our seats at the end of the show! It was absolutely hilarious!!

The show itself is indescribable; unique, very funny, and is a definite MUST SEE adventure!! The BLUE MAN GROUP performs all over the world, so check out their main web site for a location near you and experience one of the most unusual shows you've ever seen! You'll be glad you did!!

Click HERE to visit the BLUE MAN GROUP on the Internet!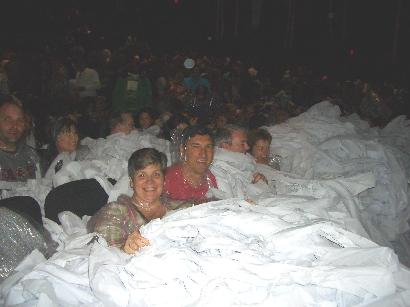 Me and Joey in our seats, wearing plastic ponchos and buried in Toilet Paper!! BLUE MAN GROUP is lots of FUN!!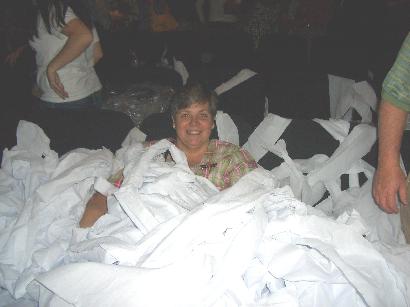 We were up to our necks (literally!) in Toilet Paper!
Blue Man and Joey
Blue Man meets CelluliteQueen!!
"The critically acclaimed Blue Man Group Las Vegas show has been called "visually stunning," "wildly inventive," and "hysterically funny." Although it is almost impossible to describe, people of all ages agree that Blue Man Group's show at The Venetian is an intensely exciting and wildly outrageous experience that leaves the entire audience in a blissful, euphoric state.

Blue Man Group has opened its most lavish production ever, in The Venetian's 1760-seat theatre, built especially for this spectacular show. Join the celebration and see the show that USA Today calls "an absolutely ecstatic experience" and Time magazine calls "a Sensation". For Vegas Blue Man Group tickets and show information, call 1.800.BLUEMAN (1.800.258.3626)."
"What is Blue Man Group?

Blue Man Group is a creative organization dedicated to creating exciting and innovative work in a wide variety of media.
Blue Man Group is best known for their wildly popular theatrical shows and concerts which combine music, comedy and multimedia theatrics to produce a totally unique form of entertainment. The blissful party atmosphere created at their live events has become the trademark of a Blue Man Group experience. Currently, their live stage shows can be seen in New York, Boston, Chicago, Las Vegas, Berlin, Oberhausen, and Orlando. The Orlando production is in the Universal Orlando® Resort.
The company applies its unique creative process to a wide variety of projects, including the recording of three albums; the Grammy nominated Audio, The Complex, which became the musical basis for The Complex Rock Tour and more recently the How To Be a Megastar Tour 2.0 which is currently touring 105 U.S. cities, and Live At The Venetian ® ­- Las Vegas, which is available exclusively on iTunes. Blue Man Group has also ventured into toy development (with their Keyboard Experience and Percussion Tubes, produced by ToyQuest), film and TV scoring, commercial campaigns, television programs (like Scrubs and Arrested Development), and a children's museum exhibit, Making Waves, which is currently touring the country.
As the company grows, it remains true to its vision of providing exciting experiences in a variety of media, which appeal to a broad range of age groups and cultural backgrounds."
Fetch all the News and Updates to

this web site by by joining the

CelluliteQueen.com E-Mail list.

You will be notified via E-Mail

when something new has been added!

Just click on the words below
CONTACT CELLULITE QUEEN
or use the tab

in the

GREEN COLUMN

on the left.